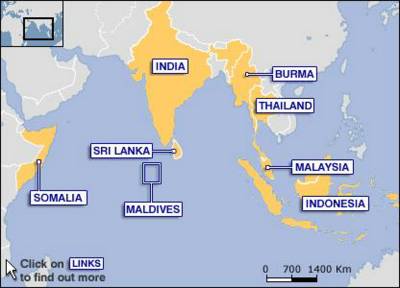 Map of areas damaged by the Asian quake that now has millions of
people
homeless as a result of the
tremor & sea surges. credit BBC

~
28-Dec-04 (blog-usa-re) title:
OPINION
With Bush on vacation in Texas until the after New Year,
former US Pres. Clinton relates concerns on relief efforts.
NEWS
Not unlike many of his concerned fellow Americans, former
"...US President Bill Clinton has called for the co-ordination
of relief efforts in response to the Asian quake, as aid starts
to flood into the region. ("It is really important that somebody
takes the lead in this,") he told the BBC's Today programme
on [12/28/04]." Clinton speaking as one experienced citizen.
Noting that the "...UN has already begun a huge relief effort
to help the 11 nations affected...". Aided by other countries.
"Millions of people are homeless as a result of the tremor
and sea surges, and the disaster zone is now threatened
with outbreaks of disease." As among some of the worst.
"About 40,000 people have been killed and many others
are still missing." With totals expected to continue rising.
"A plane chartered by the UK charity Oxfam is carrying
27 tonnes of water tanks, pumps and taps to Sri Lanka
and Indonesia, to set up emergency drinking water systems
and latrines." The major key & element in disease prevention.
"The US aid organization Care said it was already distributing
food to 14,000 Sri Lankans and that it was preparing a ("major
operation")." With reports of US dollar aid & Pentagon support.
COMMENT
With the U.S. national debt at historical and record highs, it
remains to be seen how much the United States can afford.
And more importantly, how much the RNC/GOP will actually
commit to any UN headed relief project or program for help.
Especially since this type of disaster may actually be related
to the over-all
global warming problem
or, as such, relative to.
=============================================
source and comment information credit:
BBC NEWS "Aid flow triggers Clinton warning..."

http://news.bbc.co.uk/go/pr/fr/-/2/hi/asia-pacific/4129579.stm
Published: 2004/12/28 14:19:06 GMT © BBC MMIV

=============================================
{arrangement.reserved.comment.opinion.blog-usa.rights._.'04}
related info visit blog page] http://

yellow

sub

news.

blogspot.com